orca


The Ayatollah of Rock and Rolla

Registered: September 2004
Location: Behind the Orange Kurtain, So. Kalifornia.
Posts: 1,271
| | |
| --- | --- |
| Review Date: 26/6/06 | Would you recommend the product? Yes | Price you paid?: None indicated | Rating: 0 |
| | |
| --- | --- |
| Positive aspects of the product (pros): | Interesting |
| Cons: | Not Leatherman Quality. Dunno how long it will last if really used ;) |

Bruiser over at AEX gave this to me. It's Classic Army's version of a Leatherman style tool.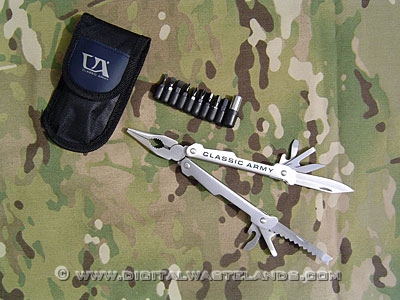 This seems to be a promotional item from CA. The build is OK, but the multi tool does includes a set of socket drivers. Don't know how functional this tool will really be, but a nice item for any CA fanboy.

------------------------------



Putting my money where my mouth is...
OMFG The A.I.C.S. is NOT an L96, AWP or AWM!!!