orca


The Ayatollah of Rock and Rolla

Registered: September 2004
Location: Behind the Orange Kurtain, So. Kalifornia.
Posts: 1,271
| | |
| --- | --- |
| Review Date: 5/10/07 | Would you recommend the product? Yes | Total Spent: £50.00| Rating: 9 |
| | |
| --- | --- |
| Positive aspects of the product (pros): | Some ACM product stocked in the U.S |
| Negative aspects of the product (cons): | |

http://www.dragonredairsoft.com


Dragon Red carries some of the ACM (All China Made) products you would normally see from places like Gunner and RSOV and they claim to stock and ship from North Carolina, USA. In some cases this is true, but in my case the product shipped direct from China.


The DR website is pretty bad in it's build. Some products wil actually go into their shopping cart, some go direct to Google or Paypal checkout. If they go direct to Google Or Paypal checkout, those products are probably going to ship direct from China. If the item goes direct to google or paypal checkout look at the shipping price. If it seems high (i.e. $20 shipping on a $49.99 metal body) then it's probably shipping direct form china. When they ship from China add a day to what you would expect Hong Kong shipping to be.


I ordered some parts on Wed's early afternoon, and paypal'd immediatly. Got a quick reply back from Charles as DR that the order would ship form China Wed evening our time. While a little sceptical it was nice to get such a fast response. 10pm Wed eve my time I get an email with tracking number that items shipped. Saturday items arrived! (It's nice how EMS and USPS work together and do Sat deliveries w/ no extra charge)


1 of the items I ordered was a newer generation $49.99 metal armalite body. The 1st gens were manufactured by D-Boys and I had some tolerance/fitting probs, installing on a TM M4. A new company, Sabre is supposedly using new diecast molds and is who is manufacturing these newer generation of cheap bodies. Hope to have time to install soon. I'll be installing on a TM M4 New Type.


So even though their websites on the crappy side in function, the customer service is top notch right now and the product mix is definetly intersting.


Here's the ACM body installed.


[img width=400 height=300]http://www.digitalwastelands.com/bbimages/airsoft/m4a1/sabre-vltor01a.jpg[/img]


This is a "slide on" body and does not use the rear body tabs. Only problem so far is the fake bolt catches on the body. Should be an easy fix though.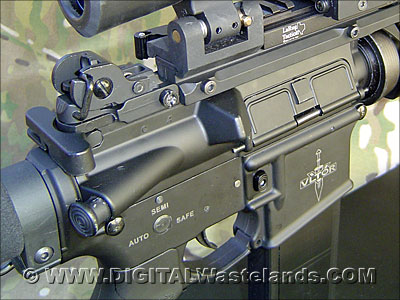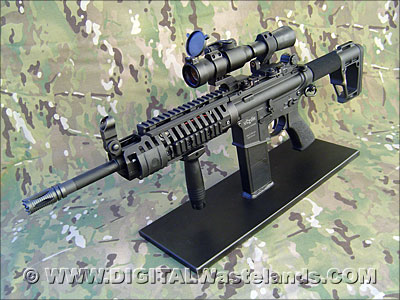 More info here: http://www.digitalwastelands.com/content/index.php?option=com_content&task=view&id=259&Itemid=29

------------------------------



Putting my money where my mouth is...
OMFG The A.I.C.S. is NOT an L96, AWP or AWM!!!