CKinnerley


Is it tea break yet?

Registered: September 2006
Location: RAF Honington
Posts: 3,508
| | |
| --- | --- |
| Review Date: 3/7/11 | Would you recommend the product? Yes | Price you paid?: £383.00 | Rating: 9 |
| | |
| --- | --- |
| Positive aspects of the product (pros): | Realistic feel and firing experience, fairly rare, mag compatibility |
| Cons: | Poor performance in colder months, high price |
TM MEU with HurricanE Kimber Covert II kit by ESC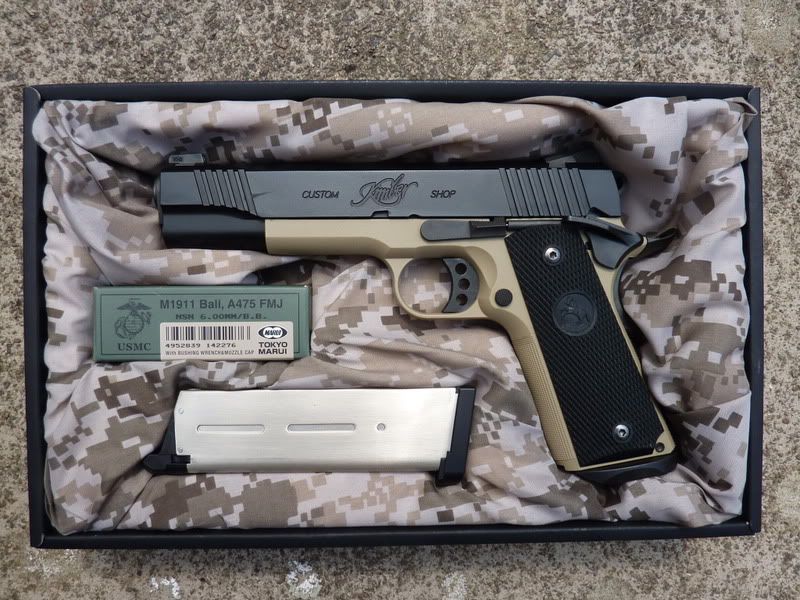 Intro




To start off, let me highlight the fact that this review is not for a mass produced pistol from TM. Overall, it does cover a 1911, but since this particular weapon is a one-off, this article is more about a combination of the HurricanE kit used in the assembly, the service received from ESC and the quality of workmanship form Mike who runs ESC.


The story behind my acquisition of this particular 1911 started about a month ago at my last skirmish. It was a mostly woodland site, but with a fair bit of sand laid down in various bunkers my MEU managed to get pretty gunked up as I was rolling around. After I got back to the barracks that evening, I decided to strip it apart as much as I could with my limited tools and give the thing a really good clean to get all the sand out. Unfortunately, as I was doing this over the sink (like a twunt) and washing away at the parts, one side of the ambi-safety popped out and the teeny-tiny little metal sliver that connects the 2 sides of the safety lever fell down the plug hole, which meant that once the weapons was reassembled the right hand side safety lever was left flapping around quite impotently.


Not being entirely happy with this situation (to say the least) I asked around on here and was pointed in the direction of ESC with regards to finding a new connector piece. After e-mailing Mike to enquire as to whether he might have any of these pieces I was very glad to quickly recieve a reply back in the affirmative. Within a day of first contacting him, Mike had put the part I needed in to the post to me, all for the grand sum of £0.00 + zero P&P. Taking in to account that I had literally never had any previous contact or business of any kind with ESC, I was fairly bowled over by this, who actually does stuff like that now-a-days?


After this (highly positive) experience I did a bit more reading around about ESC and couldn't find anyone with anything but the highest of praise for the retailer, so I decided to have a browse through the stock. Upon seeing the basic version of the weapon I eventually purchased, I was instantly sold and I decided that I needed one in my life. Is it practical for most of the year skirmishing in England? No it isn't, but I decided that for those few precious weeks when it's actually warm, it'd be worth the price.


I originally contacted Mike regarding buying one of these on the Tuesday, discussed which parts I'd like altering from the advertised list, he began work on the Wednesday, completed Thursday and I had the pistol

in my hands by Friday

; I think you'll all agree, pretty rapid work.


Now at first I did ask for the Nineball outer barrel with tread and adapter to be fitted, but sadly, try as he might Mike could not get the gun to function to his satisfaction. He attempted milling and filing out the insides of the slide to make it work, but unfortunately during this process had a bit of a slip and put the tiny nick in to the slide that's visible in the picture at the top. He then e-mailed me to let me know exactly what happened, and offered to either acquire another new slide, or to let me have the slightly damaged one at

£80

off the normal price. My initial reaction was going to be "are you freakin crazy mother freaker??", but in the end I decided to go with "why yes, that would most agreeable, thank you kindly good sir". Must've had some good Karma recently or something, as the end price came to £383 delivered with various upgrades, as opposed to the £463 it should've cost.




What's in the box?




Well first up, the box itself was previously used to house the stock TM MEU, so there were no worries that my delivery would get damaged along the way. Obviously there was the gun and the MEU mag, along with the fake box of .45 FMJ Ball, which in fact of course contains a small packet of BBs, a barrel plug and a tool for the removal of the 1911 barrel bushings. Also there was the standard TM manuals and other literature, the pistol length cleaning rod and the receipt/invoice:







On top of that lot were the instructions provided with the Hurricane kit, an ESC catalogue and a very handy maintenance guide written up by Mike that covers some important basics when it comes to lubrication of GBB pistols and looking after the magazines that go with them: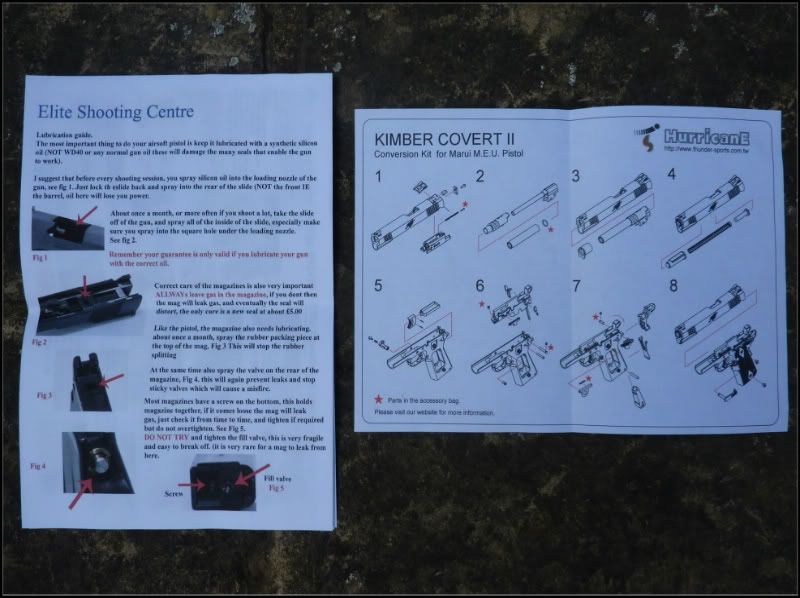 Stuff that it's made from




Let's start with some gratuitous two-tone 1911 pr0n0gr4phy:






More pictures in the 1911 picture thread. Here's the full list of parts that went in to it:



Tokyo Marui M.E.U. Base gun

HurricanE Kimber Covert II Aluminium kit (details of everything included in the kit here)

Guarder Steel outer barrel in black

Nineball Hop-up bucking

PDI Raven 6.01mm Inner barrel

TM Strike Warrior MSH and flared magwell

COLT Rubber grip set

TM Night Warrior Hex head grip screws


Now when you consider that the HurricanE kit is going to cost you a couple of tenners

over

£200 delivered to your door, that the TM MEU will be over £150 and the various upgrades add up to a fair whack more, I can't help but feel pretty happy with the price I ended up paying for this. I can certainly see myself shopping at ESC quite a bit more in future.




Holster fitment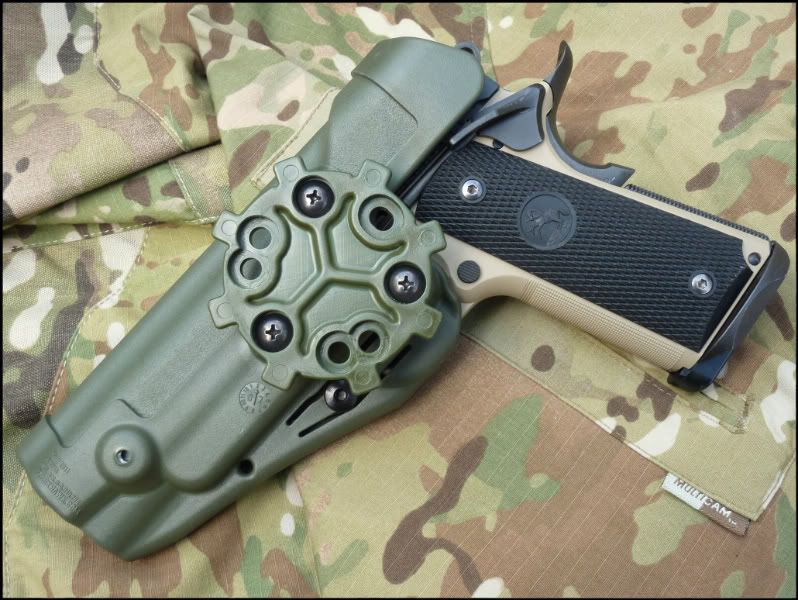 As you can see, the pistol has no trouble at all slotting right in to my Blackhawk SERPA, which means that any other Fobus/Safariland/IMI holsters you may have that already work with your TM 1911 series guns, would also be fine with the HurricanE kit.




Trademarks and Iron sights




Having compared this pistol against pictures of the RS Covert II, the trades do appear to be 100% present and correct, in terms of both the frame and the slide.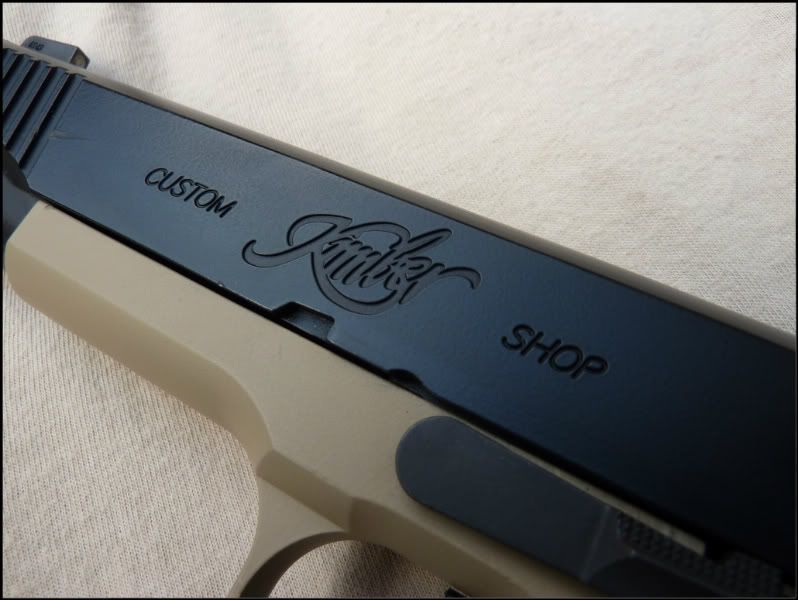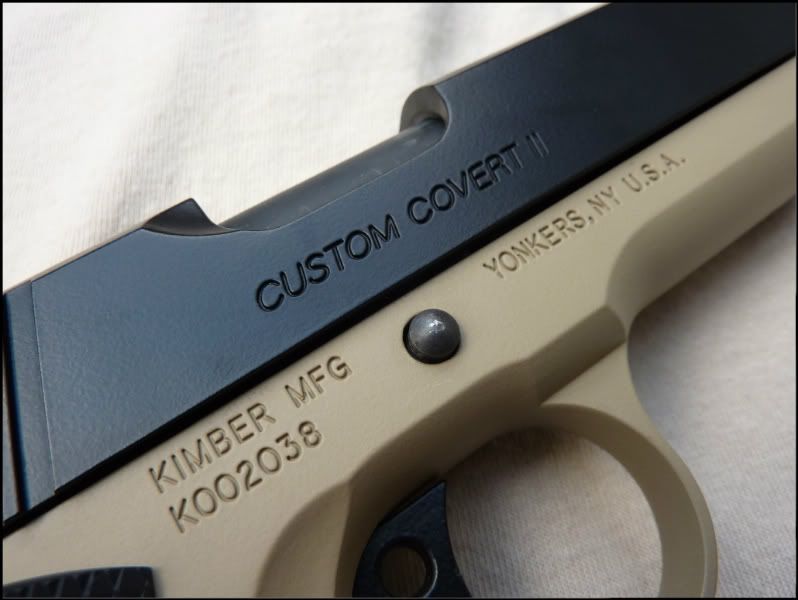 Having progressed from the 1911A1 (awful irons), to the MEU (better but still no dots), to the Night Warrior (excellent sight setup) I am really appreciating the Novak style 3-dot night sights. Very quick and easy to get your sight picture sorted.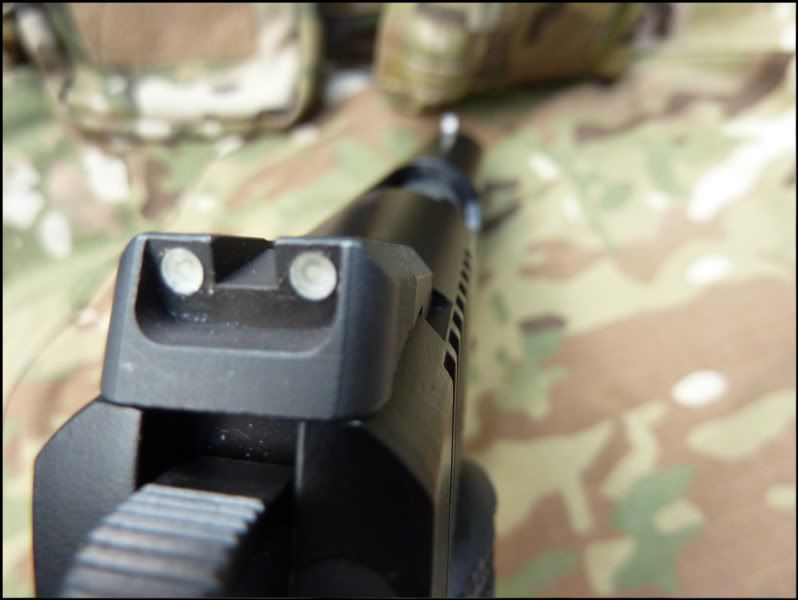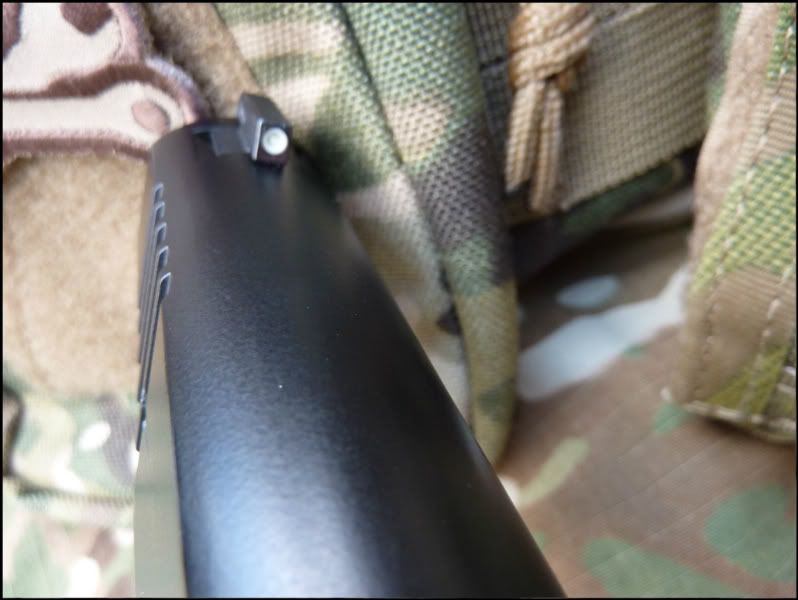 I know everyone says this when it comes to reviews, always "first impressions when I picked it up out the box, felt really solid, and with a nice heft to it, not too heavy but definitely not like a toy". But in all honesty, having spent 4-5 years now using the stock plastic TM 1911 series, first time I grabbed this thing up (mag was already in) it really, really did surprise me. Between the aluminium kit, steel outer barrel and various other steel parts it feels so much closer to the RS than anything else I've used/played with in airsoft; and with the absolute beast of a recoil spring in there, racking the slide is just a huge amount of fun.




Slide locking lever, Trigger and Magazine catch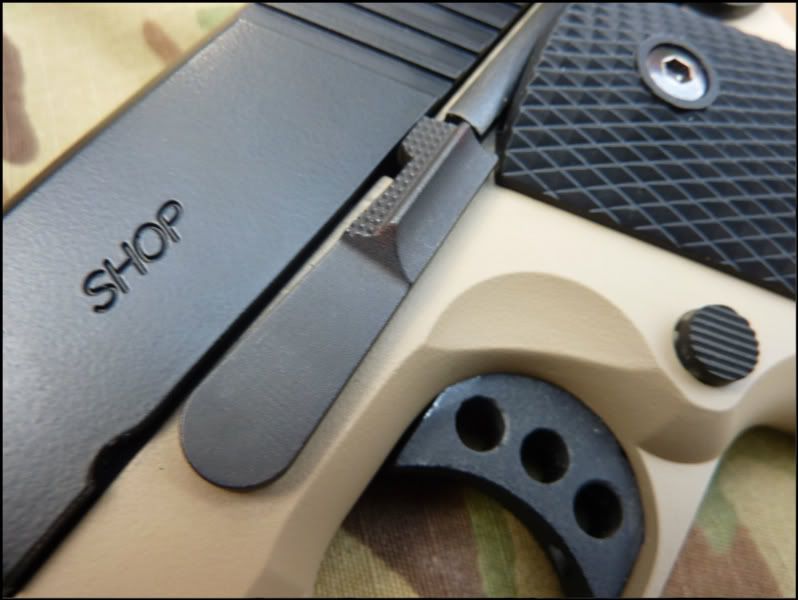 These 3 components are all replaced with upgrades as part of the HurricanE kit, aluminium 'match grade' trigger, steel for the slide lock and the mag catch. Trigger pull is, as with all my stock TM pistols, very light and short. Though this one does feel a tiny bit more 'fudgey', we're getting in to really nit-picky stuff there. It's only noticeable when you attempt to squeeze the trigger part way before actually breaking the shot.


The mag catch doesn't snag or require excessive pressure when attempting to release the fitted magazine, presses in smoothly and the mag falls free with equal smoothness from the frame. The design of the slide lock lever in particular is really excellent, the cleanly defined linear edge that protrudes out from it really helps your thumb/finger catch a secure grip when locking or releasing the slide, definite improvement over any of the standard ones I've used before. I'd also say that it's a very good move for this part to be made from steel, with the weight and bulk of the slide and strength of the recoil spring it really does need to be tough.




Hammer, Grip safety and Safety catch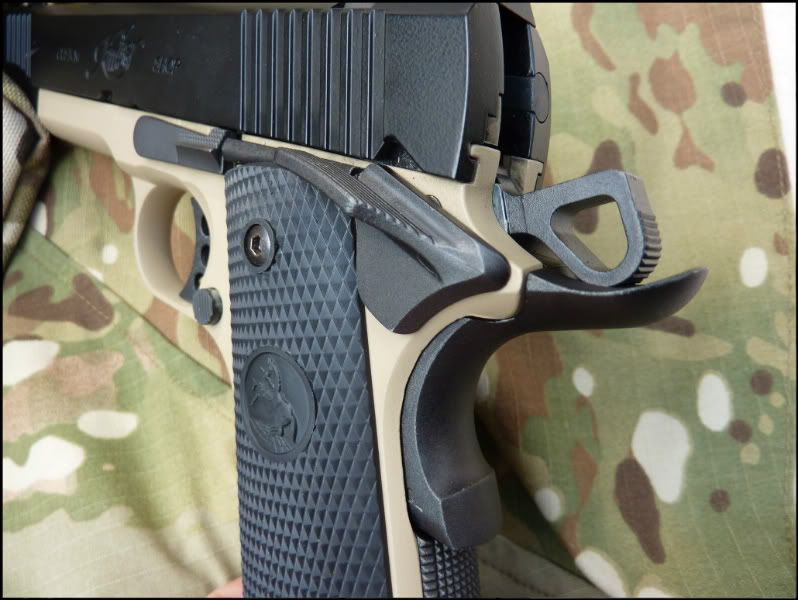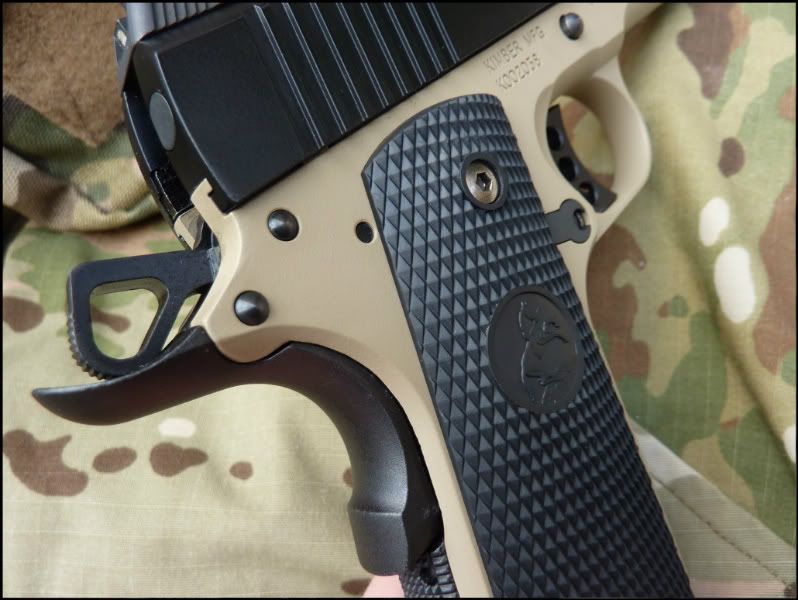 Now these 3 are not replaced by the application of the kit, and hence are still the stock TM parts, which is just fine with me. The ring hammer with the serrations on the upper surface looks good and is extremely easy to drop using your thumb, certainly much more ergonomic than the A1 type. Quite honestly after I first picked this up and cocked it, I expected the voice of 50 Cent to come out shouting "*fruitcage*ing BANG! mother *fruitcage*r" instead of the usual sharp click the TMs make when you pull the trigger.


Not a whole lot that can be said about the grip safety, sufficed to say it works smoothly, feels comfortable in the hand and of course is shaped to give flawless interaction with the modern style hammer. The actual thumb safety is only half of the stock TM MEU ambi-safety. A small part of the HurricanE kit replaces the right side lever, meaning that you get a single sided lever but in the modern style, as opposed to the old style single side of the A1. My only slight criticism is that it's extremely easy to flick from safe to fire, i.e. doesn't lock very firmly in to position leading to accidentally setting the gun to safe while firing. I've remedied this however by simply changing my grip slightly to use the safety as a thumb rest for my right hand, which actually works very well with this kind of lever, so I'm rather glad for the problem truth be told.




MSH and Magwell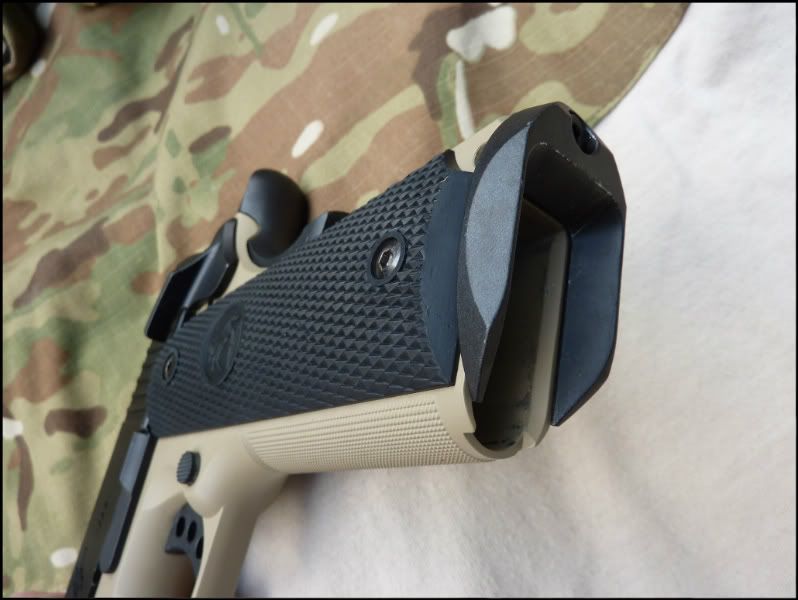 As mentioned this part is the same one TM released with the Strike Warrior, and as always the TM quality does show through. How Mike acquires these I'm not sure as the only similar product I've seen for sale separately is made by TSC, I hope he's not taking them off Strike Warriors, but I'm certainly not going to complain about it either way. The fitment is excellent and the grip texture on the back of the main spring housing is certainly aggressive enough to give you a solid hold on the weapon when firing. The bevels on the magwell itself add a good 16mm or so of width to the opening, as well as another 8mm to the length. When you're trying to reload fast, this is a significant improvement on the very thin port at the base of the standard single stack 1911 frame.


The only very minor draw back is that by removing the clearance you'd normally have around the baseplate, you do really need to follow the magazine up with your hand and push it fully home. I wouldn't recommend this for use with the A1 style magazines that don't have the extra bumper as it would be a hindrance more than a help, but when you're reloading at speed with the newer style silver magazines then it's a great part to add on.




Grips and Frame texturing








Going with a set of RS grips seemed the only thing that would really compliment this pistol as I wasn't a fan of the desert marpat style laser grips supplied by HurricanE. I did ask Mike about the range he had in stock, but it was mostly the normal TM stuff so I decided to order the weapon without any. Yet, he still stuck on a set from a TM A1 without the weights in just to hold all the external parts in place, all at no charge to me. I've gone with a set of Colt rubber grip panels, they're light, far less vulnerable to cooling than many other materials and the surface really sticks to your hands or gloves very firmly. The hex-head grip screws I again sourced myself by pinching them from a Night Warrior.


The surface on the front of the grip area of the frame is also immaculately formed and plenty aggressive enough to make a positive bond with your hands, without being so rough it's uncomfortable and turns your skin red raw or shreds your gloves.




Detractors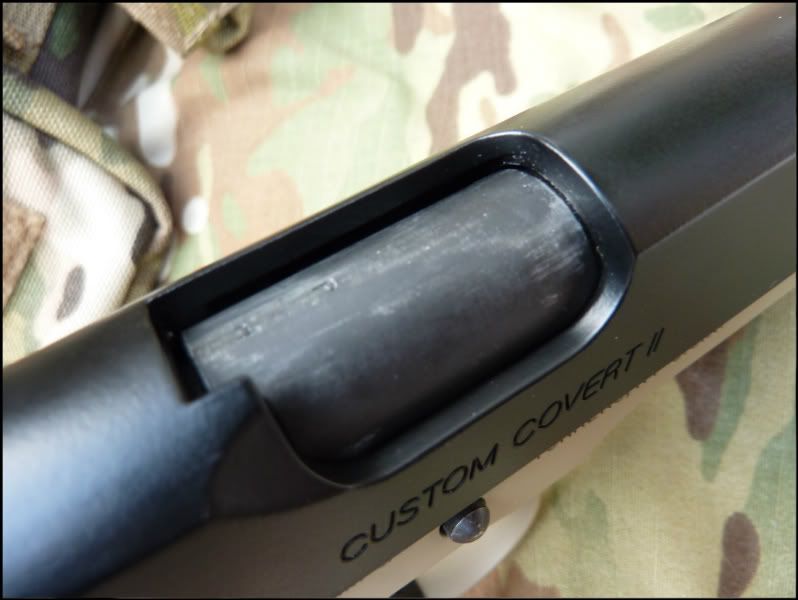 As you can see, the paint has already suffered quite a lot on some of the internal areas and points where there's a lot of metal clashing against metal whenever the weapon's fired/cocked. Also I've found that for some entirely inexplicable reason the slide tends to jam part way if you release it with the weapon pointed downwards from the horizontal. This however doesn't actually matter in the slightest seeing as I subscribe to the Magpul school of reloading techniques. Given how well everything else fits together and how often people have major issues with fitment on metal kits for pistols, I'd say that this being the only sticking problem is a testament to both the quality of the HurricanE components and Mike's workmanship.




Firing and Performance




Let's get realistic here folks, groupings on paper targets are great, they give you lots of in-depth info. But, this platform has been around for bloody ages now, the results that the Nineball hop rubbers and PDI barrels give is well documented, ESC wouldn't recommend them otherwise. Out on the skirmish field, if you're doing the usual thing and running an AEG assault rifle with a GBB pistol on backup, you need your handgun to work reliably and consistently hit a mans' torso at 20-25m.


Conveniently, 25m is about the maximum range I'm able to test here, and all I need say is that the above criteria are indeed met with ease using 0.2s, propane and a very quick 'yeah about there oughta do it..' adjustment to the hop unit. I look forward to taking this out on to the field and seeing how far I can get it to reach using 0.25s with some careful adjustment to the hop, after which I shall report back.


FPS wise it's kicking out around 300, again I'm going to have to get back later on this one as I'm currently awaiting delivery of a new (much higher quality) chronograph. End of the day it's nice and safe for the close ranges where you're going to be using it, while still managing to send a BB out to a very respectable range. Which is precisely what you want from a secondary.




Overall




I won't give this thing a score out of 10 or anything like that, I don't think any sort of numeric system of approval/criticism would quite fit to an airsoft weapon of this kind given its' unusual nature. It's not going to work terribly well in the winter, and purely by the nature of the parts used it won't fire off a huge number of shots compared to a stock plastic TM 1911. However, much like my G&P GBB rifles, as a weapon to use when the mercury's higher than usual and you really want to have some fun at a game (or even just garden plinking), you can't beat a pistol like this.


Anyone who's spent a fair amount of time on airsoft forums will know that metal kitted TM handguns are not common things. A lot of newer players will look at the £150 tag attached to a plastic TM, compare it to the £100 price tag on a 'full metal' WE/KJW equivalent, and to them the choice

seems

clear, though of course once you've done some reading around you do realise that you can't judge a book by its' cover. Add another £200 or so on to that £150, as well as the time and skill needed to create an all metal TM handgun, and you can see why most folks would rather buy a G&P AEG M4 (or maybe even 2 G&Gs) for that same amount of money. However, if you're in that position where you've been at this game a few years, got a couple of good, reliable AEGs, a brace of dependable sidearms, a plentiful stock of tac gear and you want something a little bit special, then I'd definitely recommend you drop Mike a line over at ESC and see what he can do for you:


Go on, have a look.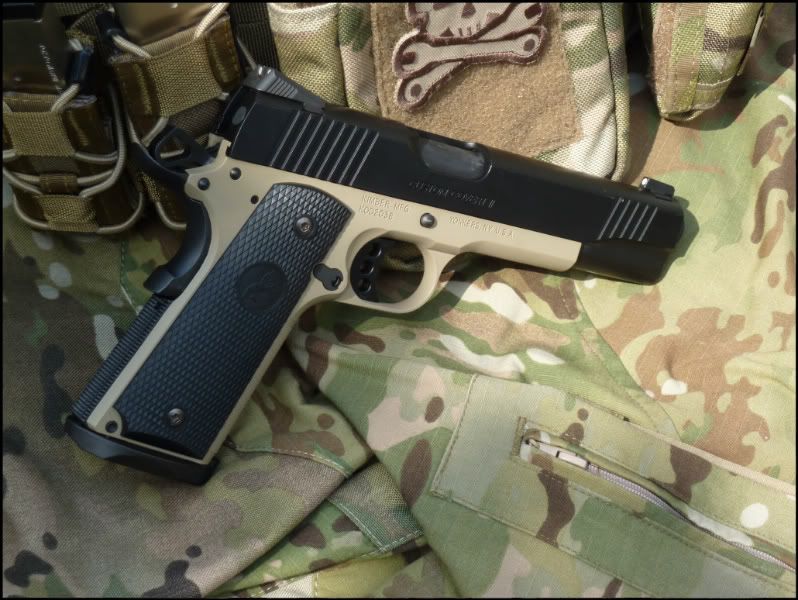 ------------------------------
SAC(T) Kinnerley - Somewhere Away from Combat (Tea drinking)
REMF Tacticool - On Facebook, YouTube & Twitter